Why choose A E Skin for your Botox treatment?
Welcome to A E Skin, a professional medical spa where you see the doctor every time. We are excited to have you as part of our family and we look forward to meeting you. Please see some of our resources below to help prepare you for your first appointment.


Here are some of the reasons why our patients choose A E Skin:
Dr. Alex specializes in cosmetic treatments and has done over 5,000 cosmetic treatments.
A E Skin has won numerous awards including Best Medical Spa and Aesthetic Practice of the Year.
Dr. Alex has given lectures on cosmetic treatments.
At A E Skin we guarantee our Botox results. If you are treated with the recommended Botox dose and your results are not perfect after two weeks, we are happy to provide complimentary additional units. You don't have to worry about diluted Botox.
If you get a bruise from a Botox treatment, Dr. Alex will treat it with a laser as soon as the next day to make the bruise go away faster.
Our goal is to make you look and feel your best. We are not satisfied unless you are satisfied.
What people are saying about A E Skin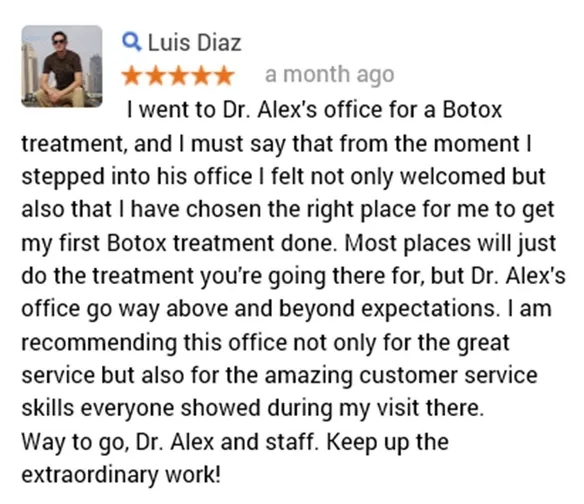 Information about Botox
Botox Information
Botox Frequently Asked Questions
Botox Injection Demonstration
Paperwork to complete prior to your appointment
To make your appointment more efficient, we now have our paperwork available here. Please complete the forms below and bring them with you to your appointment.
Medical History
Medical history form
A medical history form is required at your first appointment.
Botox Consent Form
Botox consent form
A Botox informed consent form must be signed by every patient receiving a Botox treatment and must be completed for every treatment. Please read the form and print, sign, and date at the bottom. The date must match the date of treatment. Please leave the witness section blank.
Botox Frequently Asked Questions
Botox frequently asked questions
This form answers common questions about Botox treatments. It is for your information.
Botox Aftercare Instructions
Botox aftercare instructions
This form explains what to do after a Botox treatment for best results. It is also for your information.
More Information on Botox
Please click here to visit our Botox page for more information on Botox.
We participate in the Allergan Brilliant Distinctions Program. This is a reward program where you get points for each treatment with Botox, Juvederm, or Voluma and for each purchase of Latisse. These points can be used to receive discounts on future treatments. Our patients love saving and we are delighted to help.
Click here to join our mailing list to receive regular specials!
Thank you for choosing A E Skin. We are delighted to welcome you to our family.